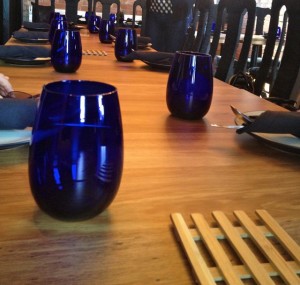 The doors are barely open and the paint barely dry but this old shabby chinese takeaway has got some real style!! With some familiar local faces and a killer menu the guys are slammin' it! And today they were also getting slammed! I can imagine it is always a tricky first few weeks finding your feet and when you are a immediate hit it must be hard trying to balance everything.
Lil Boy Blue is deceptively big, the bottom floor keeps going past the open kitchen and then there is a light and airy space upstairs for other tables or bigger groups. The breakfast menu sounds amazing but we are here for lunch and lots of it! A perfect option for a large group is the 'Chef's Choice' let us bring you food!! Anytime!!
The chickpea & sumac battered mushrooms with balsamic reduction are sensational! Incredible flavours, I am a huge fan of mushrooms and these would be the Rolls Royce of mushroom dishes!!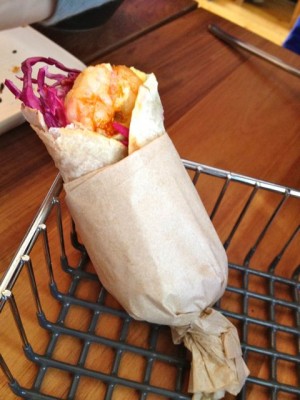 The curried duck pasties with pear chutney are great and the chilli prawn soft tacos with coleslaw, avocado lime salsa & paprika – totally wonderful!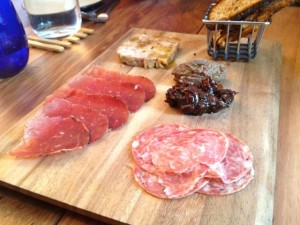 Charcuterie board; cured & smoked meats, pickles, terrine, pate, bread wow! I could have eaten this one all on my own it was sooooo good! Perfect selection of delectable treats!!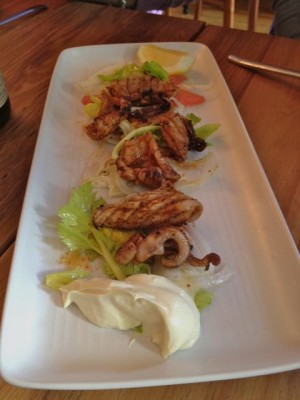 South Australian calamari marinated in bush spices, confit garlic aioli, pink grapefruit, baby fennel & celery heart salad = TOTALLY GORGEOUS!!! Fantastic, Fresh and Fabulous!!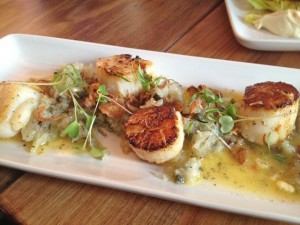 But my stand out dish was the seared scallops with Jerusalem artichoke & caper smash, parlsey cress & lemon myrtle butter. Perfectly burnished scallops, meaty, fresh and sweet with a perfectly gorgeous smash!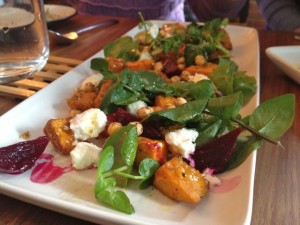 Gorgeous seasonal hazelnut dukkah pumpkin, candy beetroot, chickpea, goats curd & water cress with honey mustard dressing & kataifi – just amazing food!!
Sadly the guys were taking a real beating on the lunch time rush so I had to leave before the promise of pork belly cooked twice with parsnip puree, caramelized apple, preserved lemon & caper dressing and quail schnitzel with beetroot slaw, candied walnuts & sauce gribiche but we'll be back to enjoy some more treats from the guys very soon even if its for just for the desserts;
Almond milk panna cotta with chocolate mud bits, braised quince & pistachio praline
Turkish delight doughnuts with cinnamon ice cream & Allpress espresso syrup
Chocolate & Beaurre Bosc pear tart with rum & raisin ice cream
Rhubarb & apple stew with ginger bread & oat crumble, eggnog custard
How good do they sound!!!??!!