The institution of Applebee's! Steak and Eggs, New York Slam, Omelettes, Cinnamon French Toast and pancakes! Bring it on!!
The cinnamon french toast with fresh berries is great, sweet, eggy bread from your childhood with tangy tart berries! Heavenly!!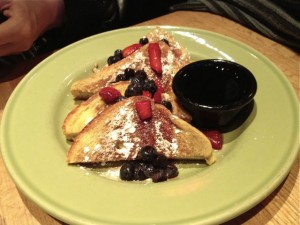 Bottomless coffee and hiding from the cold of -2 degrees I am feeling very naughty when I order buttermilk pancakes, plenty of berries and hold the whipped cream! YUUUMMMMMM
The perfect breakfast for a full day of sight seeing!