Take a French genius in the kitchen and the Guru of Cheese and you get a night of superb food that you feel privileged to be part of!
After a taxi drive from hell we fall into PM24 hoping we aren't too late to enjoy the promise of a calendar rolled goats cheese with grape, a pistachio and parmesan custard, with quail egg and consomme partnered with a Pichot Vouvray Brut 2006, Loire Valley, France – are you kidding me?!! Holy Cow's milk cheese Batman! The flavours are mind blowing!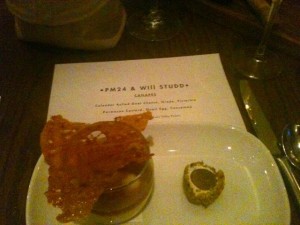 The cheesy wafer, the rich goats cheese, the creamy custard and rich consommé it is The Best!
But that is only the start! After some banter with the men of the moment we get serious!
The menu sounds wonderful and you have to wonder how much cheese we are going to go through? The answer…..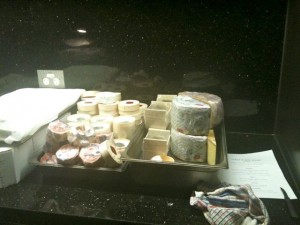 Will Studd's camembert beignet with slices of duck breast with a mesclun salad and organic beetroot! The beignet is sooooo yummy! A crispy, cheesy pocket of loveliness!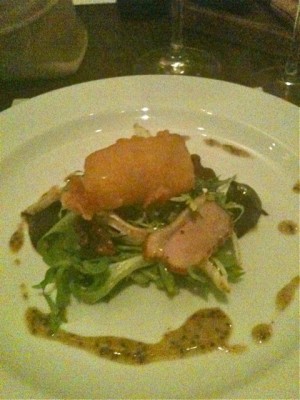 The second starter is a Jerusalem artichoke and Comte cheese souffle with a mushroom fumet and a glass of Domaine de la Louvetrie Muscadet De Sevre et Maine Sur Lie 2007 from the Loire Valley. The souffle is remarkable! The flavours whizz around your palate and the mushrooms and artichoke are fabulous Friends with the Comte!
The main is a PM24 special rotisserie cooked Organic Milawa chicken with "truffade" and a natural jus. Backed up with a fabulous Bachelet-Monnot Bourgogne Blanc 2008 from Cote de Beaune, France.
It's a generous serve considering how much cheese we are eating but there are no complaints! The chicken is simply roasted and showcasing the natural flavours brought out from the rotisserie. The Truffade – cue Wiki "Truffade is a dish traditionally associated with Auvergne in France. It is a sort of thick pancake made with shredded potatoes that are first fried, then mixed with thin strips of tomme cheese. This mix is stirred until it sticks together, and then is flipped over to brown the other side. Sometimes lardons and garlic are added to the mix." It is sumptuous!!!
BUT stop everything – before you can blink we have the specially selected Cheese board from Will Studd!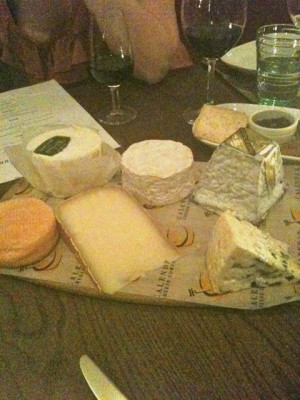 WOW WOW WOW!!
Presented with a Pierre Gaillard Banyuls NV, we have Roquefort, Will's own Brillat Savarin, a firm white yews milk cheese, an ashed and many more – it is superbly generous between 4 of us when we know there is still dessert to come!!
Will comes over to take everyone through all of the cheeses and I have to admit by then I was gushing about the Brillat Savarin, it is phenominal! Almost moussey! Sooooo amazing! Will is gorgeous! Happy to chat and so passionate about his products and everyone – lets campaign to ABC to get his 5th Series of Cheese Slices going!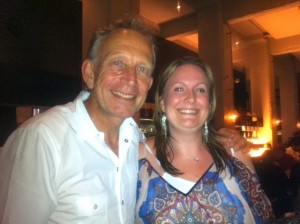 We all look sadly at the cheese board, we haven't done it justice…. I so could have given a summer afternoon and some good cold dessert wine but with four other courses we are all struggling, and then the Fromage blanc and cherry clafoutis arrives and we all find that extra 'dessert compartment' in our stomachs!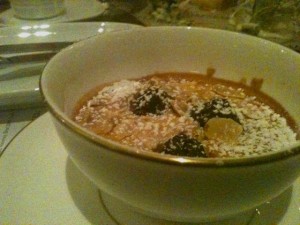 YUM! Light, flavoursome, modest and beautifully presented in gold edged tea cups we are filled to the brim with a cheese inspired menu that over delivered!!
We have had an amazing time, the service was great, the toilets lovely!! The wooden floor was frightening slippy but as an ex-ice skater I had a great time! We left with a little extra from Will – a whole Brillat Savarin to take home!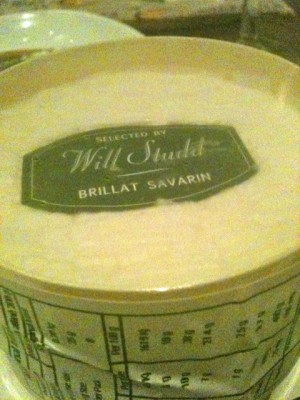 Thanks to everyone for a wonderful night, apart from the rubbish taxi driver!! PM24 I cannot wait to come back and enjoy another wonderful night from the regular menu, but rest assured you really cannot have too much cheese!!