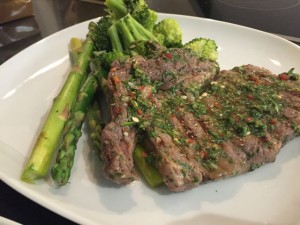 Based on the Thai Crying Tiger sauce and the Nigella idea of a post marinade for a steak, this takes a cheap steak to another level and packs a real flavour punch.
Serves 2
Ingredients;

2 steaks – choose your cut
Bunch of fresh coriander washed
1 red chilli
1 tbsp of fish sauce
1 tbsp of fresh lime juice
Pinch of salt
Method;
Place the marinade ingredients in a mini blender and pulse until you have a finely chopped 'sauce'.
Cook your steaks to your liking and then place in a shallow bowl and pour over the marinade and leave steaks to rest in the sauce, turning a few times to ensure the steaks are coated.
Serve with grilled asparagus and a veggie puree.
Enjoy!