I have been on the Langbein train for some time now and am a huge fan of Annabel's seasonal and simple approach to fabulous flavours through simple recipes. This is a perfect book for a beginner to learn to create confidence in their dishes but also good for working week cooking where you need something healthy, fresh and simple to whip up after a hard day at work.
Recipe 11 – Avocado Salsa
Avocado Salsa – super simple, couple of little twists made my sad little avocado sing.
Recipe 10 – Artichoke Salad with Mediterranean Dressing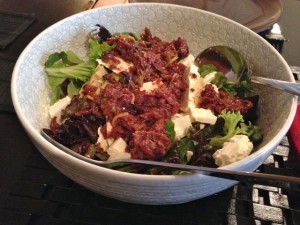 Artichoke Salad with Mediterranean Dressing – wow. Super powerful ingredients, I was worried they would be too much all together but trust Annabel! Such a great salad, could be my new favourite.
Recipe 9 – Vietnamese Salmon
Speedy Vietnamese Salmon with Annabel's Vietnamese dressing – I used two fillets rather than the grandeous looking side of salmon. The dressing was simple but very delish, though I didn't have fresh chillies so I used flakes but I think fresh would have punched through a touch more.
Recipe 8 – Asparagus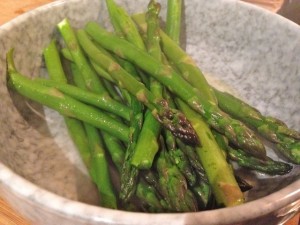 Perfect Asparagus – and it was! Perfect time of year for enjoying asparagus and Annabel's simple way to cook it made it all the more enjoyable.
Recipe 7 – Crispy garlic and thyme potatoes
Crispy garlic and thyme potatoes – so delish, skipped the garlic but they were still lovely with the proscuitto wrapped chicken.
Recipe 6 – White Bean Dip
White Bean Dip – super quick in the processor and bingo – much better than anything shop bought but I did use butter beans rather than cannolini which I think would have begun better.
Recipe 5 – Chicken Proscuitto Parcels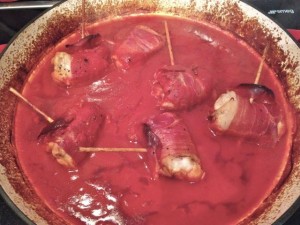 Chicken Proscuitto Parcels – Amazing, love chicken thigh, this took five minutes to prepare and the whole house smelt of proscuitto and basil. Cooked away in the oven with a tomato sauce that hubby is addicted to. We had to keep the left overs for another day.
Recipe 4 – Slow Roasted Spiced Lamb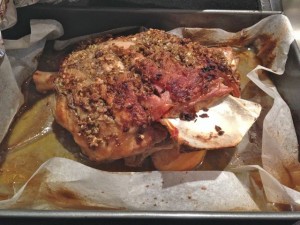 Slow Roasted Spiced Lamb – wow! So beautiful, the lamb cooked for so long the bone was protruding out of the succulent, flaking meat.
Recipe 3 – Glazed Pork Chops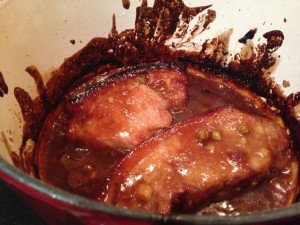 Glazed Pork Chops – wow! The best pork ever! So simple and so bloody good, I was really worries I would over cook the pork but trust the Bein!!!
Recipe 2 – Walnut Salad
Walnut Salad – OMG such a great salad, fresh, crunchy and tasty. Love love love.
Recipe 1 – Slow cooked beef ragu
Slow cooked beef ragu – slow, slow and yum. Great flavours, the whole house smelt so good.