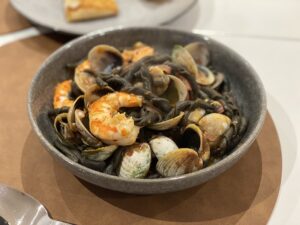 Squid Ink Pasta with Clams, Prawns, Garlic and Nduya
Serves 2
Ingredients:
300gs Squid Ink Pasta
8 big cooked prawns cleaned
200gs Frozen or fresh clams
3 garlic cloves
1 red onion finely sliced
1/2 cup of white wine
1 fresh red chilli
1 tbsp Nduya
Method:
Cook the pasta to the instructions, remember to keep 1/4 of cooking water.
Heat a good slug of olive oil in a deep based pan and add the garlic and onion until soft. On a high heat add the wine and the clans and put a lid on to steam.
Give the pan a gentle shake after a minute and check if most of the clams have opened. Add the chilli and Nduya – add the chilli to your taste.
Add the prawns and cooked pasta and pasta water and stir through for 2 minutes.
Serve with epic garlic bread and the rest of the wine!!
Enjoy!