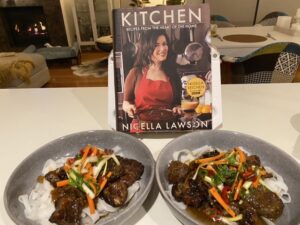 Cookbook: Nigella's Kitchen
It's an oldie but a goodie!! Managed to find the TV show streaming and had to go back to some of the great recipes in this one.
Asian Beef Shin with hot and sour salad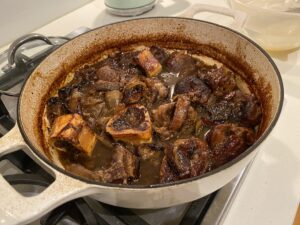 Awesome flavours and slow cooked meat = winner! I put this in the slow cooker for 4 hours and then in the oven until you get gnarly, fall apart meat with an amazing aromatic sauce. The shredded salad makes it turbo boosted with chilli and fish sauce tang!
Spanish Chicken with chorizo and potatoes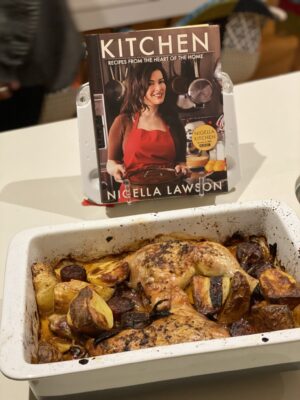 Anything that requires as little effort as 'put on tray and cook' is my fave and the flavours you get from so few ingredients is brilliant. I used Maryland's instead of thigh and the chorizo just adds a Flavour bomb you will love with every bite, so simple it's dangerously good!!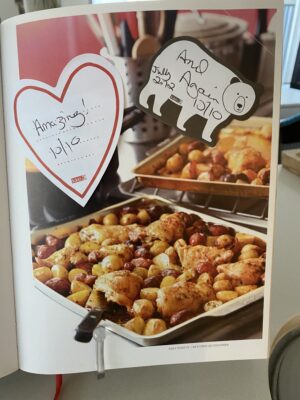 Vegetarian Mexican Lasagne
Awesome and veggie! Plenty of beans and cheese, tortillas to make your layers and a great tomato sauce  super simple to put together and cook in advance.
The avocado salsa is off the charts with lime and jalapeños! Leftovers have never been so popular.
——————————————————————-
I previously cooked from this book when we did the 'Book a week' challenge – back in July 2012 and I am already cooking some favorites again….
Week 3 – Book 6 – Kitchen by Nigella Lawson

Revisit on the book! Such a great one I can't resist going back for more!! Lemon Polenta Cake – perfect for my gluten intolerant friend and super easy! Served with strawberries macerated in Chambourd and minty, vanilla yoghurt! So good!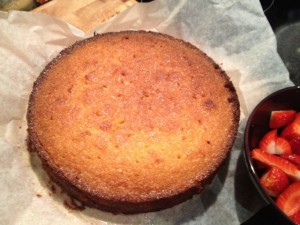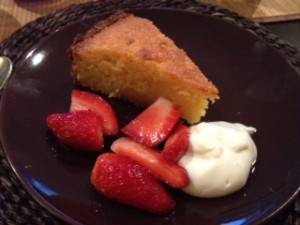 And revisit a previous recipe for Spanish Roast Chicken, potatoes and chorizo – perfecto!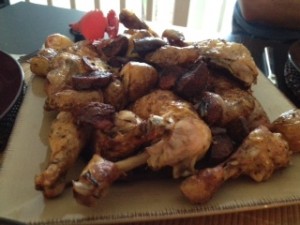 Published 15th Jan 2012
Recipe 6 Pasta alla Genovese
Fresh basil packed pesto with starchy wonderful pasta and green beans – healthy, filling and fast Sunday night dinner, the potato really does add a little something to the dish!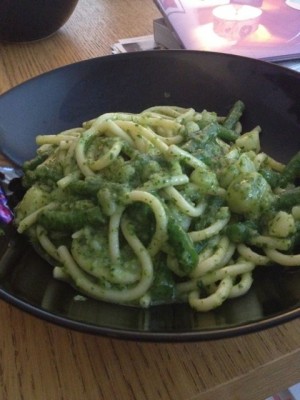 Recipe 5 – Scallops with thai scented peas
Amazing! I went one fancier than Nigella and served them back in the shells, I was very proud of myself, they looked so pretty!!
Amazing, simple, super tasty and GORGEOUS!!!
Recipe 4 – Chocolate Peanut butter Cheesecake
HOLY Peanuts Nigella!!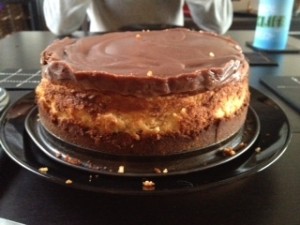 This is the most decadent, amazing, gorgeous cheesecake ever and soooooooo simple! The crust is amazing, two mins in a food processor and done!
The filling is just a quick and easy and I was a little less naughty and substituted half the cream cheese with 'lite'!! Then the choccy fudgey topping…. seriously good!!
I loved that within minutes of posting a piccie @ieatblog had spotted it was the work of the legendary Nigella!!! Infamously wonderful and lurking in my fridge for more later!!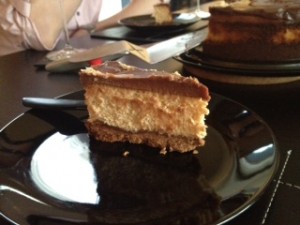 Recipe 3 – Crisp chicken cutlets with crispy gnocchi
This book is packed with easy week night dinners, simple but tasty cooking that doesn't cost the earth and the crispy crusted chicken is no exception! A quick bathe in buttermilk and worcestershire and then dipped in their cheesey, herby crumbs and into a pan to get all cripsy and lovely. Gnocchi browned in butter until completely crispy and golden is absolutely amazing!
I am sure Nigella wouldn't mind that the Brits at the table then popped a bit of salad cream on the plate too!!!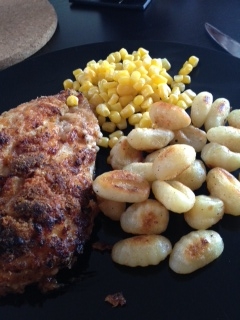 Recipe 2 – Korean Keema
The perfect Monday night cooking! Rice cooker at the ready, quick marinade and dinner on the table in 20mins!!
Marinade of soy, honey and rice wine was yummy and a bit of chilli too!!
Fantastic rice and peas!!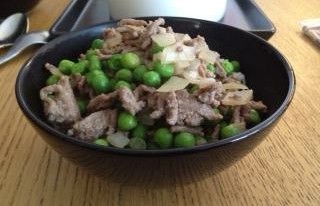 Recipe 1 – Spanish Roast Chicken, potatoes and chorizo
Easy, yummy roast chicken, perfect potatoes with an orange twist, straight in the pan and in the oven – minimalist cooking at it's finest!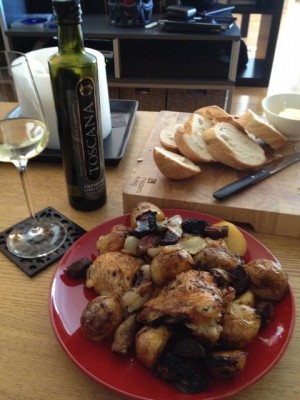 Chicken skin is all crispy and the chicken is perfectly cooked – too easy!