Frankie's Tortas and Tacos – the friendliest Mexican Street stand in town, hopefully they have calmed down a bit since all of the write ups before Xmas and I am safe to jump on the Frank Wagon again! It's limited seating and menu, they simply do Tortas and Tacos – really well! Chuck in some corn chips and a Mexican soda and either try and grab a seat or take it away for a picnic somewhere fabulous, if I lived near here it would be hubby going off for a Saturday brunch treat to bring home to bed!!!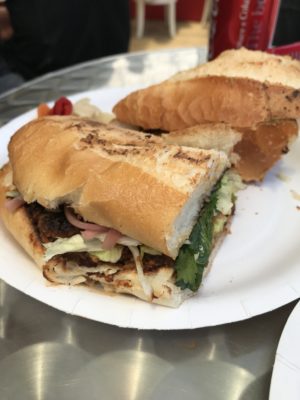 So 'Tortas' – the quintessential Mexican Sandwich, brace yourself for a half a baguette stuffed with juicy, spicy loveliness! Simply choose your weapon;
Al Pastor – Pork, queso, bean, avocado, lettuce, coriander, pickle
Milanesa – Beef, queso, bean, avocado, lettuce, coriander, pickle
Mushroom – Asada Mushroom, queso, bean, avocado, lettuce, coriander, pickle
Hubby went the pork, he is a sandwich fanatic so this is his idea of heaven, combined with traditional Mexican flavours and it's big smiles all around, no concerns with whether he could finish it, he'd been denied bread in our Gluten Free house for weeks – it was inhaled!!!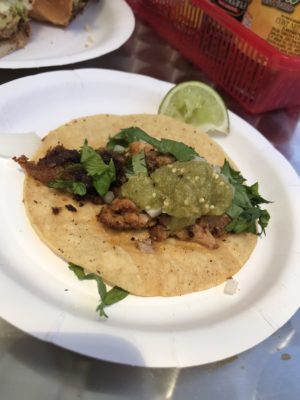 I went for a delicate little taco! Available in Pork, beef or mushroom with a fresh corn tortilla. I went for the insanely good pork and that green salsa that rocked my world with punches of sweet and spicy goodness. I coulda / shoulda got a whole lot more, they were the perfect taco.
I think I would always be in the mood for a bit of Frankie's, add to the list of reasons to move nearer Smith Street!!