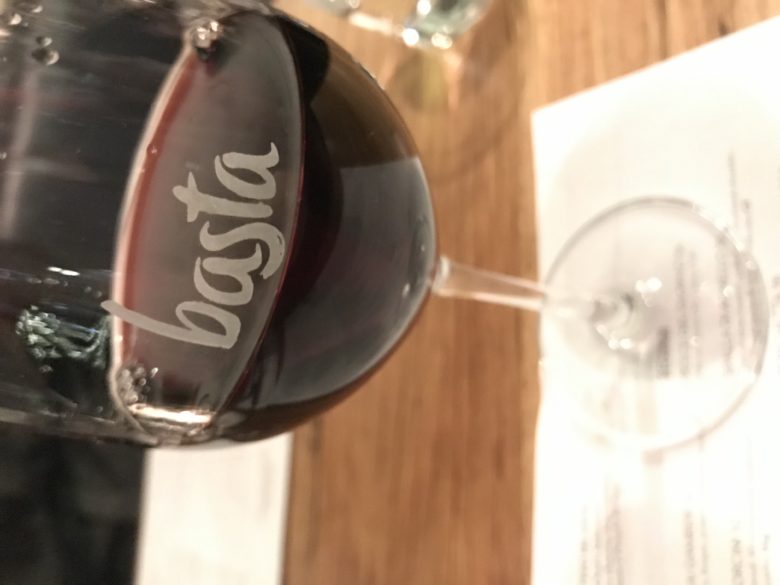 Basta!  Means 'Enough' in Italian, to confirm this there is a huge lit up sign spelling out Enough on the wall that has Rockstar qualities! Basta is a super cute spot down the darker ends of Gertrude Street, There are intimate tables plus areas to sit with a kitchen view and I imagine in summer there are some nice areas outside. Bring on the Italian!! Wine list is easy going, we have no problem picking something delish whilst we negotiate over the menu…. We want it all!!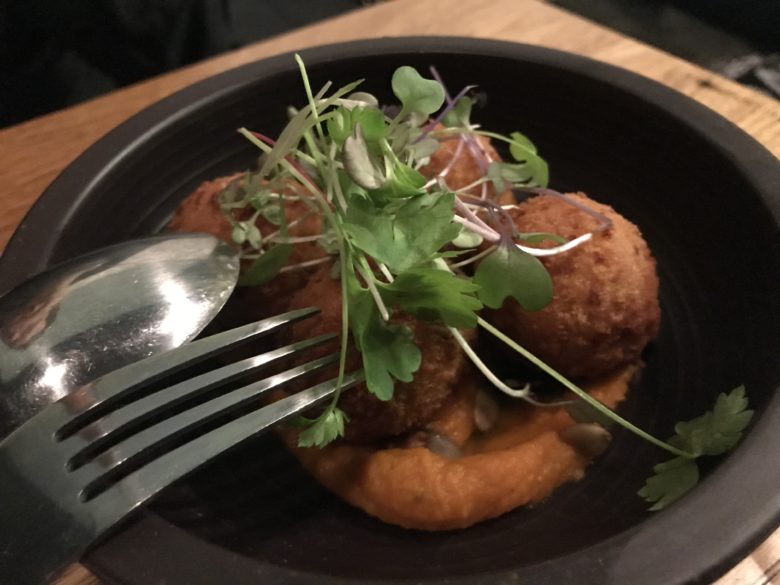 Easy options to start with the smaller plates like warm marinated Italian mixed olives or beautiful arancini with cheesy arborio rice balls, pumpkin puree and pumpkin kernels.  Polpette with  veal and pork meatballs, rich tomato sauce and parmesan shavings or the bit more adventurous…..
Lingua De Bue – 18 hour slow cooked ox tongue with roast tomato sauce, cherry tomato, dehydrated olives and salsa verde, if you forget about the tongue bit and what that might look like in real life – it's very nice!! Beautiful flavours come together with the richness of the meat and the punchy tomatoes.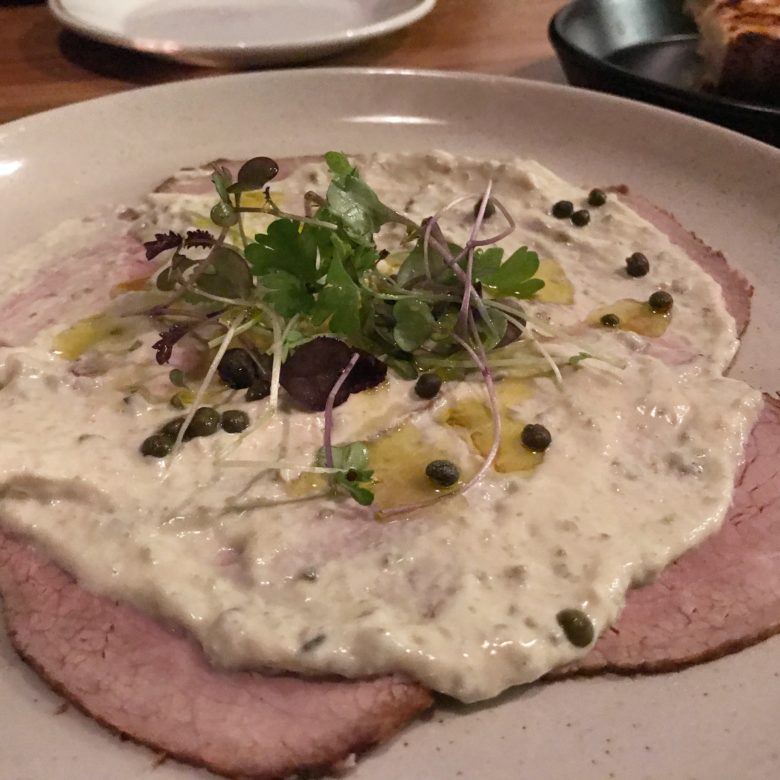 I adore Vitello Tonnato, as much with the tongue I tend to ignore it's cold thinly sliced roasted veal (always a topical one) but again with the tuna and capers and mayonnaise sauce it's fab!
Larger dishes become all too tempting on a cold night they are the epitome of comfort with 'Cozze Allo Zafferano' local mussels with saffron and leeks sauce and grilled bread or House made squid ink linguine with prawns, calamari, zucchini, cherry tomato and mint.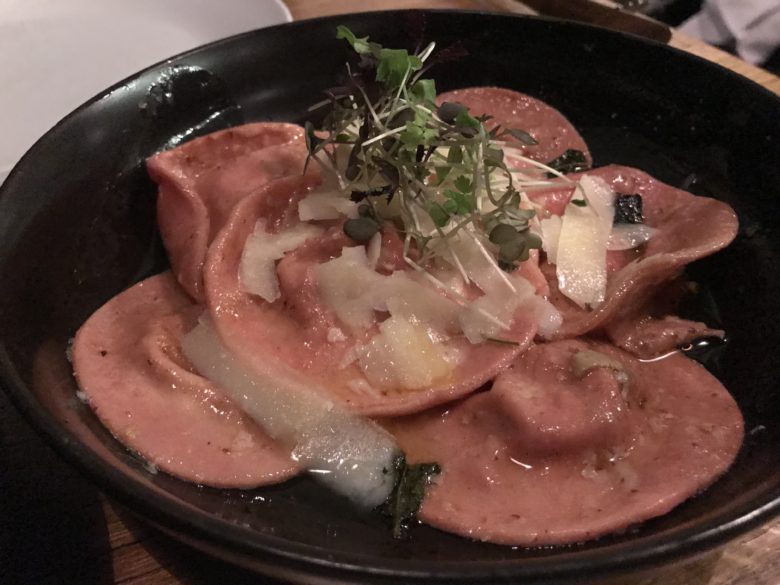 The beetroot infused ravioli filled with porcini mushroom and radicchio and ricotta and served with truffle butter and pecorino was a little bit of a let down, the big ravioli were more hat brims than head room… more dough than filling and it just didn't rock me.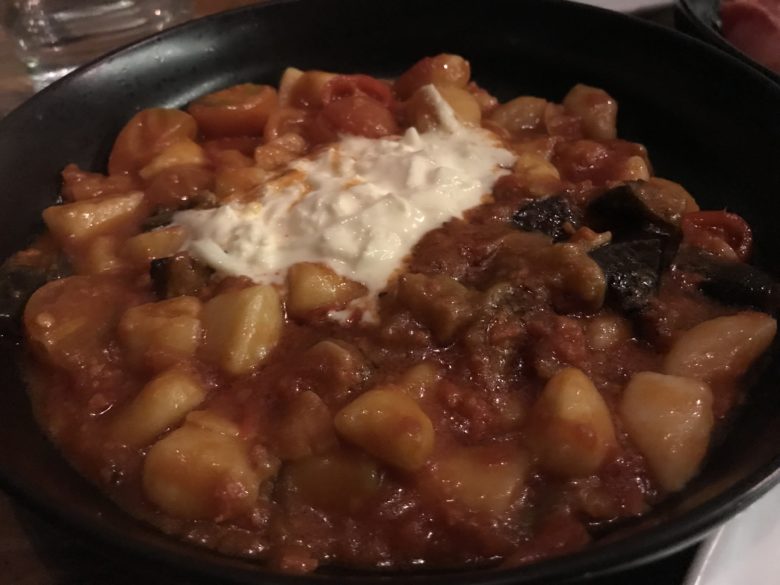 The potato gnocchi with wonderful nduja(spicy pork) and eggplant, cherry tomato and burrata was pretty darn good, the lusciousness of the burrata with the deep, rich spicy pork and freshness of the tomato was a winner. Other heroes on the menu were the agnolotti pasta filled with pork belly, pumpkin, ricotta, fennels seeds served with butter, sage and pecorino or the Cavatelli, italian sausage ragú, with tomato and smoked scamorza.
We were getting to full for the big dishes but they sounds to die for with 'Spalla Di Agnello' – Coal pit slow roasted, pulled and pressed lamb shoulder with smoked cauliflower puree and roasted radicchio. 'Guanci Di Manzo' – 4 hours slow cooked beef cheek and carrot puree and 'Pollo Al Funghi' free range pan roasted chicken breast with polenta and mushroom sauce YUMMM!!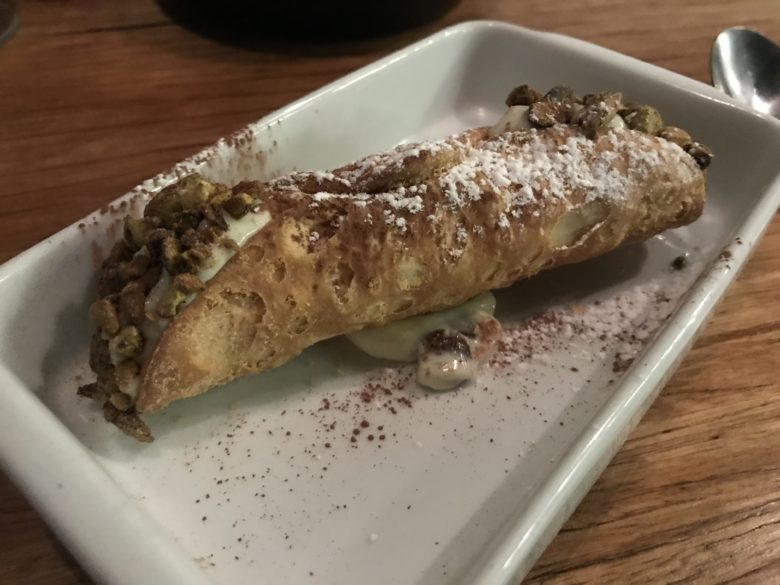 I did manage to squeeze in dessert though!! I think that might have been my first ever cannoli! Cream, pastry, nuts, cocoa nibs? Epic!!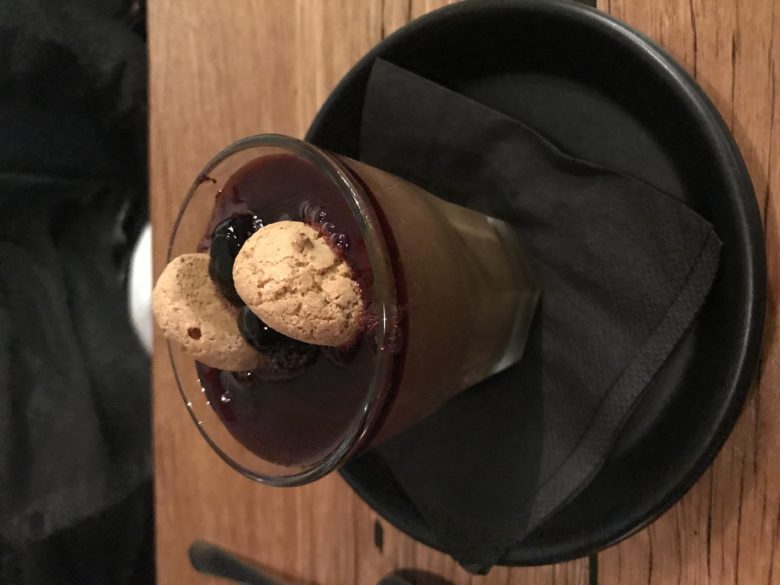 The Cherry Chocolate Mousse was a step too far in the greedy stakes, even if I was sharing I had eaten myself silly!!
It was a beautiful meal, a perfect little wintery night getaway – sadly I can never tell myself when I have had Enough – Basta!!!