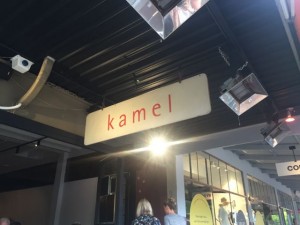 What better an idea on a warm night in Albert park but to grab a table outside at Kamel and get an ice cold Riesling and some pretty amazing food. Kamel has been around for a long time and they have remained consistently good serving African food that just wamrs the soul and makes the world a better place.
Wine is poured and menus delivered, there is a lot to choose from, from small plates to large and a whole lot in between, tonight we are going for a balance of healthy meets firm favourites.
Saganaki – not in the healthy list but who cares, that pan-fried kefalograviera cheese with just a squeeze of lemon makes us all smile and if you don't like cheese you are a mad person!!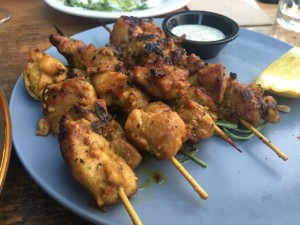 Moroccan Chicken Shish Kebabs with minted labneh – a generous portion of skewered chicken, super succulent and with heaps of smokey taste from the grill, cooling labneh and I could just eat this it's such a big portion.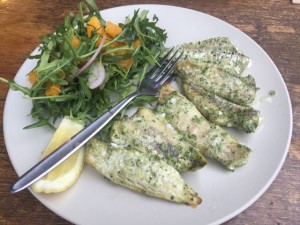 The fish of the day is stunning, delicate little fillets of flat head, cooked to perfection and served with a rocket and orange salad – I just adored this dish and felt very righteous with something so healthy!! (forget the cheese!!)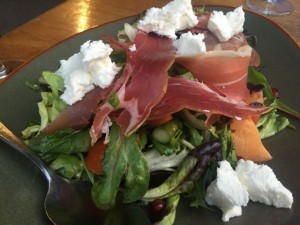 Finally, and probably one dish too many but it sounded so good for a perfect Summer evening – grilled peach and asparagus salad with pomegranate seeds, mixed lettuce, goats cheese and prosciutto. I am so stealing this one and making it at home! A little salty prosciutto, a little creamy, rich feta, some glorious sweet ripe peaches and some zingy pomegranate. Happy days all around. Whilst typing this and I thinking we should go straight back and order the same again this weekend!
Previously posted 11 September 2011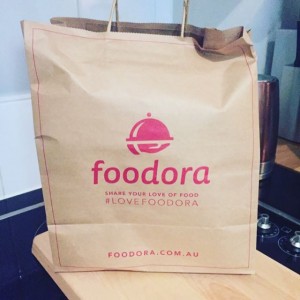 I am a huge fan of Kamel restaurant, a Middle Eastern spin on fantastic fresh and healthy food… well as healthy as you make it!! And now, like most, they are delivering to your door! So when you get home from a tough day and you just cannot hit the kitchen – let Kamel come to you.
The menu is a tastebud tantalising list of food designed to share, so you can get a few dishes delivered and have your own little feast at home.
The take away menu is extensive with all the Kamel favourites on there, indulge in spice roasted almonds and cashews, marinated kalamata olives, Turkish bread with herb oil, crispy calamari with preserved lemon aioli, seared scallops, jerusamlem artichoke puree and crispy prosciutto, baked saganaki prawns in spiced tomato, capsicum & onion……………. OH how to choose?!? Well choice one for hubby was the Turkish bread with garlic oil and even I had to break the diet and have some! Super fluffy Turkish bread glistening with pungent garlic yumminess!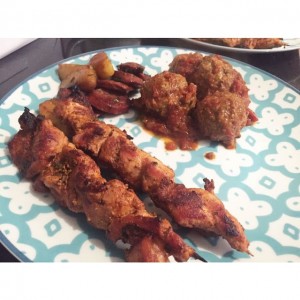 Moving on, there are more dishes with capsicum stuffed with spiced beef, currants, pine nuts and topped with feta, haloumi, mint and caramelised filo parcels, lamb and lentil filo triangles with yoghurt, duck pastilla with shredded duck confit, prunes and chickpeas in a pastry twist and divine moroccan warm salad of cauliflower, red and white quinoa, chickpeas, pinenuts and feta or a super salad with quinoa tabbouleh with cucumber, citrus, mint and a pomegranate dressing. The
pan-fried chorizo with apple and sherry vinegar was a modest dish and super tasty, caramalised grilled spicy sauce perfect and loved the pieces of cooked apple – Great dish!!
Moving on again … there is more!! Zucchini, corn, feta and chickpea flour fritters with yoghurt, green beans with African mint harissa and feta, field mushrooms with feta & herb oil, patatas bravas with roast baby onions and aioli, Persian pilaf with aromatic basmati rice with saffron, pistachios, sultanas and coconut with peppered yoghurt, seafood khoresh with green chilli zhoug with prawns, calamari, fish, mussels and mograhbieh couscous, berbere chicken shish kebabs with mint labneh, twice cooked rolled duck with fig and ginger spiced couscous. The chicken berbere shish kebabs were exceptional, really juicy chicken and heaps of flavours yum!
But there's more! To your door they will deliver roasted pork belly with a slaw of shaved brussel sprouts, cabbage, apple and salt roasted pepitas, ras al hanout and red wine braised beef cheeks, parsnip mash and sweet potato crisps or lamb kofta with preserved lemon and tomato concasse which was beautiful! But I'm wondering now why I didn't get the pork belly and beef cheeks!
Seriously if you have friends coming over and you are worried about getting a nice meal on the table this is a damn good option! Onto some nice crockery and no one would ever know… though they might suspect – hide the bags!!