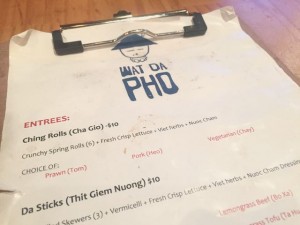 When Wat Da Pho first opened we loved it for it's cheeky play on words and bringing amazing, authentic pho to South Melbourne and we had many a bowl with cheeky spring rolls and lots more. We hadn't been for a while and the weather was still miserable so a bowl of steaming, wholesome noodle soup sounded just the thing for poor, sick husband.
The menu hadn't changed, though it looked a little tatty by now, the favourites were all still there and we ordered up a few dishes to share and then two bowls of the 'Da Pho' with rare sliced beef and beef brisket but first those little spring rolls.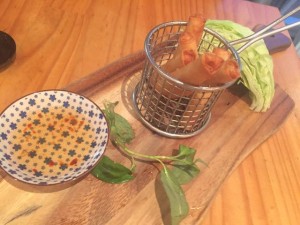 Ching Rolls or Chia Gio still looked the part but the salad and herbs that came with them to wrap them up looked a bit sad, battered and wilted, skip that I think!! The spring rolls were still nice and with a great dipping sauce.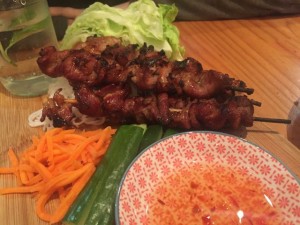 The 'Da Sticks' with caramelised coriander pork were sensational, super gnarly, caramalised pork – tick, tick!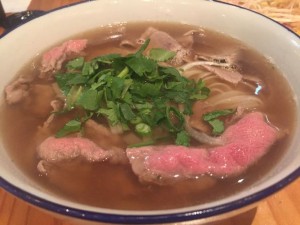 The Pho…. Not so great, we ordered a bowl each and fortunately they only brought one as it wasn't good. It was wishy washy stock with a little beef plopped in and it was ultimately under whelming. We had a bit, we both shrugged, we figured it was in no way medicinal and decided not to finish and head off down the road for a nibble on something else.