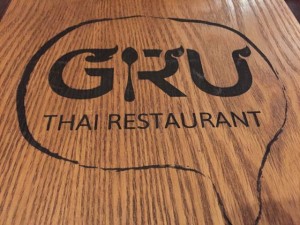 Recently opened in South Melbourne, Gru Thai is a nice space, there are tables in the window area where you can sit cross legged on the floor or plenty of tables back in the restaurant area. The menu is extensive with all the classics and the service was nice and friendly.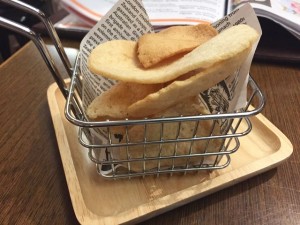 Entrees are my dream list of the best Thai treats, I could order them ALL!! Spring Roll, Curry Puff, Chicken Satay, Fish Cake, Herbs Chicken Wings, Mooping & Sticky Rice, Gaiping & Sticky Rice, Golden Bag and Nam Gai – Deep fried marinated chicken ribs.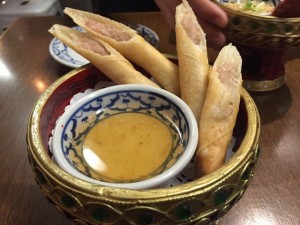 Chicken Spring Rolls were nice, pure chicken – not veggies or anything but they were those lovely little skinny rolls with super crispy pastry YUM!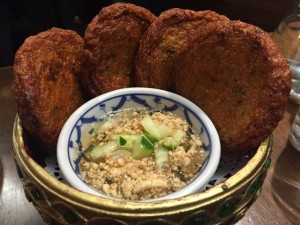 Thai Fish Cakes were that perfect level of spice and almost rubbery but in a nice way that Thai fish cakes are! Love them!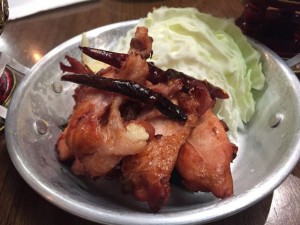 Nam Gai – Deep fried marinated chicken ribs – these were surprisingly good, nice that they weren't battered or crumbed and they had a real smokiness to them…. Almost like they were wrapped in bacon!!
How many curries does one foodie need?! So many to choose from Green Curry, Massaman Curry, Red Duck Curry, Yellow Curry or Panang Curry. For something a bit different try Gang Par Gung – Spicy Thai curry with herbs and prawn without coconut milk or Gang Som Cha-om Gung – Thai sour curry, prawn and acacia leaf omelette or Gang Tai Pla – South of Thailand spicy curry made of fish kidney, potato, green bean and fish.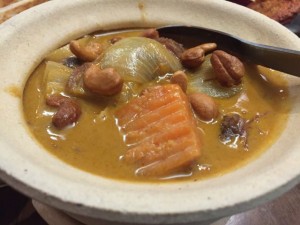 We loved the Massaman, super creamy with flaking beef and sweet potato – LOVED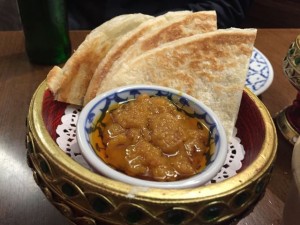 Our curry was perfect with the crispy roti and peanut sauce.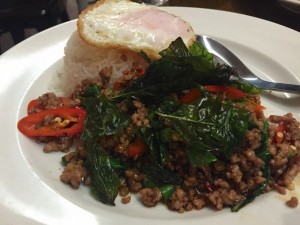 There is a part of the menu called One Plate Wonders – sounded kinda cool! We went for the Khao Krapao Moo Sup Kai Dao – Stir fried mince pork, chilli, Thai basil and fried egg on rice. Tricky to say but perfectly delish to eat!! Loved the caramalised pork mince and the crispy Thai basil, heaps of flavour and hubby loved the fried egg!
There were a LOT of other dishes to try, the prices are reasonable and the staff are lovely so all in all our new Thai is pretty damn good.