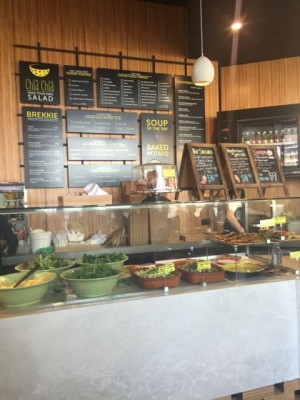 I love a bit of build your own lunch, making the right decisions is key but whilst we have been on a bit of a health kick this was a great option if you hadn't prepped lunch. Chia Chia works on the basis of building your own lunch from the base up…… here's how it goes;
Choose a base;
Mixed leaf
Rocket
Baby Spinach
Pasta of the day
Baked Potato
Baked Sweet Potato
You can choose two – making the right decisions here is key – I want the potatoes and pasta, I am choosing the rocket and spinach!!
Choose your toppings;
Tomato, cucumber, onion, carrot, mushroom, avocado, corn, beetroot, chickpeas, eggs, kale, snowpeas, chilli, broccoli, artichokes, mint, feta, cheese, olives, peas, capsicum, sun dried tomatoes, roasted zucchini, pumpkin, coriander, almonds, cashews, corn chips, quinoa, sunflower seeds, lentils, jalapenos, cranberries, celary, cauliflower……
Choose 6 of these! Oh how I want cheese, jalapenos, corn chips and pumpkin…… I am having cucumber, mint, coriander, onion, snowpeas and broccoli – Super Healthy TICK!!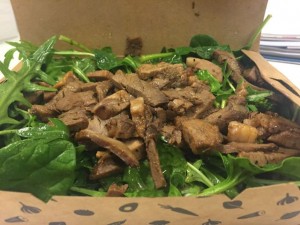 Choose your protein – there are hot and cold options;
Poached chicken, cajun chicken, pulled beef, tuna, smoked salmon, roast lamb,tofu, falafel, schnitzel, barramundi, bacon or calamari
OH the roast lamb – it is so juicy and gorgeous LOVE!!
Choose your dressing;
Balsamic, chilli citrus, herb aioli, Lemon Juice, basil, caeser, honey mustard, sour cream and olive oil
Lemon juice please – what a little angel!! Just a touch of pepper and that is my healthy mega salad with NO temptation!!!
However next time I am ordering a baked potato with chicken schnitzel, jalapenos, corn chips, cheddar cheese, avocado, chilli with a sour cream dressing….. oh yeah!!!!!
We love Chia Chia – it s lovely spot, friendly, warm and if you make good decisions it is a very healthy option for lunch!