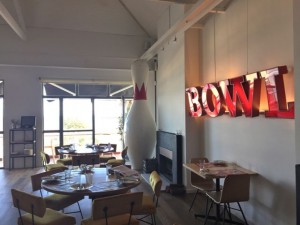 Tenpin – no it's not a bowling alley it's actually a lovely beach front Thai with talent in the kitchen from the irreverent Melbourne Chin Chin and a massive tenpin bowl from when Mordialloc Bowling Club closed. But they have kept the theme subtle and to the upper restaurant floor.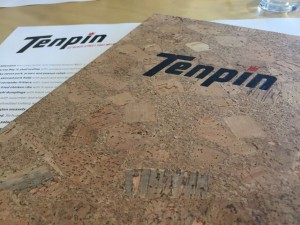 It was a very welcome destination at the end of our lovely walk and it wasn't too busy on a Saturday afternoon so we could crash out in the comfy seats and have ourselves a little bit of a feast.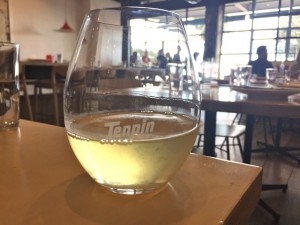 The menu was fantastic, the sort where you have to heavily negotiate in order to cut if down to the few dishes you can actually eat without rolling out of the door with greed! It's all about sharing and the entrees are reasonably priced to share a couple, think sticky sweet pork, prawn and peanut relish or crispy skinned pork belly with apple and wombok slaw, corn and coriander fritters with roast tomato sambal, buttermilk fried chicken ribs with 5 spice salt and kewpie mayo or pork and kimchi dumplings with black vinegar and chilli sambal …….. oh yes!
Bigger dishes sounded amazing and we wanted them all with dishes like Pad Thai, Beef Rendang with toasted coconut, Mild coconut chicken curry with kaffir lime and Thai green curry of blue eye with apple eggplant. How to choose!!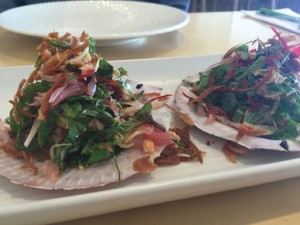 We couldn't pass up the Harvey Bay half shell scallop with smoked trout lemongrass and herbs – SENSATIONAL!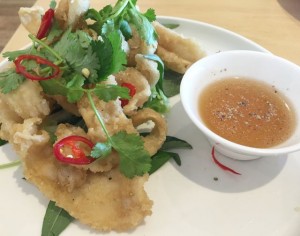 The 'Crisp fried squid' with Vietnamese mint and lemon pepper dipping sauce were the best I have had in ages, perfectly executed, crispy, not greasy with plump happy squid inside that fabulous coating and then scattered with chilli and coriander – Heaven!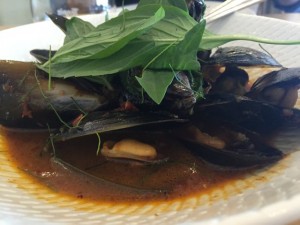 The Wok fried Port Arlington mussels with chilli jam and Thai basil and a cheeky side of roti was a stunning dish, plump, fat, juicy mussels – no closed ones to be seen! And an amazing rich broth,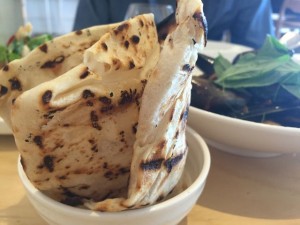 Perfect with that roti!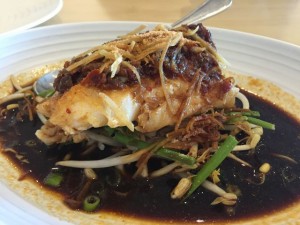 Steamed fish fillet with XO, ginger and spring onion broth was nice, it didn't pack the same punch as the others but it was still a great dish with beautiful fresh produce.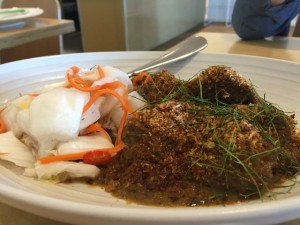 The Beef Rendang with toasted coconut, wombok and carrot pickles was a smasher, succulent, flaking beef with a deep, rich rending sauce and those pickles were a great accompaniment.
I really wanted to stay for more of their great selection of local wines and especially their desserts – Banana and sesame fritters, White choc chai pannacotta with pineapple and cardamom shortbread AND Spiced coconut cake trifle with passionfruit curd, sugar bananas and peanut caramel………….. well that's three definite reasons to come back again very soon!!