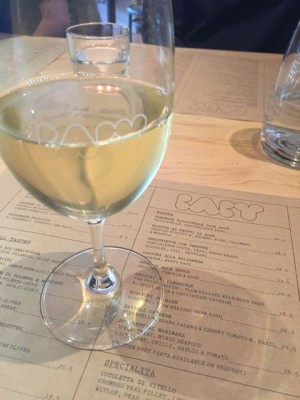 I have a whole lotta love for Baby Cafe & Pizzeria, no matter what time of day you go there is always a friendly smile, great vibe and sensational smells coming out of the open kitchen. It's great for a coffee and freshly baked mega sized muffin, perfect for a little pasta and pizza for lunch and though I have never made if over for dinner I imagine it make for a great date night or catch up with friends.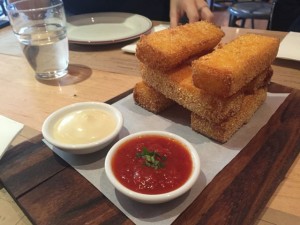 Whatever you have, I strongly recommend the polenta chips, they are a standard with our lunch order and when they arrive you will see a beautiful stack of golden fried polenta bricks served with a tomato salsa sauce and a thick unctuous aioli – HEAVEN!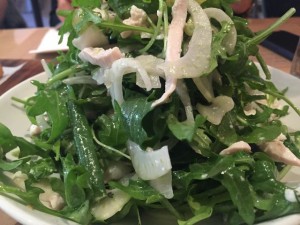 The poached chicken salad with rocket, green beans, fennel, fior di latte and a light dressing with zesty lemon was a light and lovely option to go with our pizza and pasta. The salads here are always generous and more than enough on their own or to accompany other dishes, my recommendation is always take a few friends who like to share and you'll get to try and whole lot more!!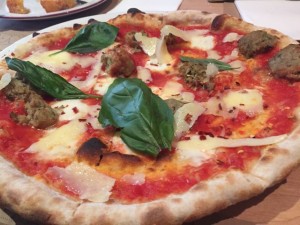 We love pizza!! The 'Polpette' with fior di latte, meatballs, san marzano tomatoes, pecorino, fresh basil and chilli is a winner, though todays meatballs were a bit bigger and needed to be broken up to ensure each slice had a share but they are some of the best pizzas, that super thin crisp base and just the slightest slather of the rich sauce and then a gentle sprinkling of cheese and toppings…. perfect with a glass of pinot grigio!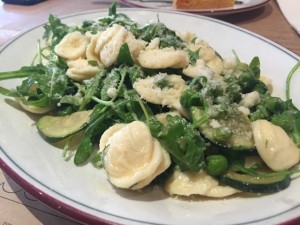 Orecchiette pasta with peas, broad beans, zucchini, dill and reggiano, perfect Italian cooking with just a few selected ingredients that come together to make a comforting but fresh dish that makes you smile.
Such a great place, I wish it was closer to home but then that could be dangerous!! Love you Baby!