Baked Oozey Camembert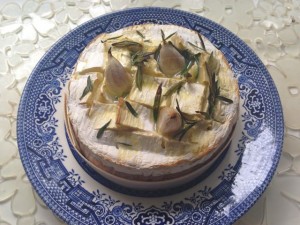 Ingredients
One boxed camambert
3 whole garlic cloves
2 sprigs of rosemary
Splash of white wine
Drizzle of olive oil
Pinch of salt
Method;
Pre heat the oven to 180 degrees.
Take the camembert out of the wrapper and put back in the box, make slices across the rind of the cheese to make a large grid. Poke the whole garlic cloves where the grid crosses. Remove the rosemary sprigs from the stalk and poke into the slices in the rid. Sprinkle the salt and drizzle the wine and oil over the top of the cheese and place in the oven for 20 minutes.
Once the cheese is all oozey and melting – you will see a wobble under the rind, remove from the oven and serve with either super crusty bread or slices of pear, apple, celery and carrot make a healthier balance to the beautiful cheese.