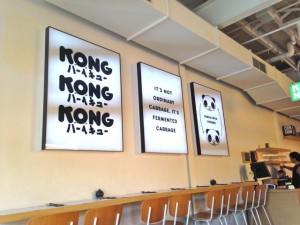 The Lucas effect continues with Kong BBQ in Richmond, can't remember what used to be there but it is now a little hot box of KBBQ fun with queues galore to try out Lucas's spin on Kpop. It is small but well set up with as many seats as they can get in the place without making it cramped or impossible to move. You can get a table if you are lucky or I quite like a seat up at the kitchen to see how the magic happens.
The menu is crazy good with temptations such as dumplings, buns, roti rolls, ribs, rice and wings. You can order a take out online if you can't face the queues, though we popped in on a lunch time and had no problem getting a seat so maybe it has calmed down.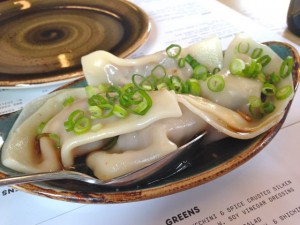 The dumplings with wagyu beef with kimchi dumplings were perfect, floppy beautiful dough with a delicious treat inside.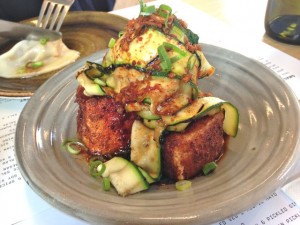 I have been twice for a quick bite to eat and I can't go past the BBQ Zucchini and spice crusted silken tofu salad with soy vinegar dressing. It is just gorgeous, you could have this on your own but it's good to share too, totally healthy and incredibly tasty.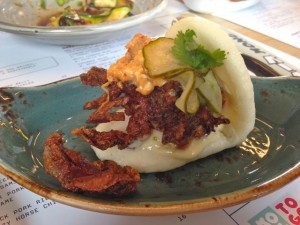 Our modest lunch finishes with the Soft Shell Crab bun with salted duck egg relish and coriander, that gorgeous bright white dough formed into a little shell to clasp onto a little fried soft shell crab. It is crunchy, soft and yummy all at the same time. The girls go for the roti rolls too which look damn fine, next time and the ribs… and the wings… and the pork belly bun…. I guess we will see you soon Kong!