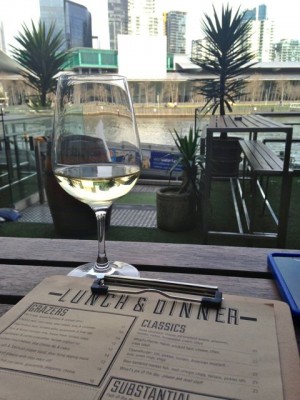 Sunday in the sunshine and The Wharf Hotel on the river is a perfect spot to sit outside and enjoy a glass of wine and some very lovely and reasonably priced pub grub.
Opposite the hustle and bustle of the Southwharf promenade, you can hit up DFO and then hop across the bridge and pull up a table in the shade and relax, the team at the Wharf have you covered. There's plenty of refreshing beverages and a good selection of wines by the glass that won't hurt your wallet.
The menu has so much to choose from, delicious grazing dishes to share like Szechuan squid, croquettes, fried chicken with blue cheese dip and DIY Nachos to name a few. The pizzas looked great as they floated by and kept the kids happy on the table near us and there are a nice range of salads for the lighter lunch. Classics menu covers the cheeseburger, fish and chips, steaks andwich and pie of the day and then the more substantial dishes include mussels and clams, pasta, pork belly and steak. AND if that isn't enough you can just get one of the two share platters with a selection across all of the menu, don't worry the cauliflower croquettes are on both so you won't miss out!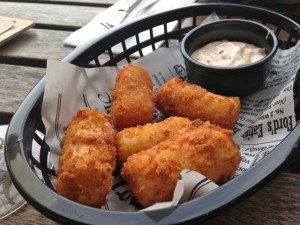 So cauliflower and cumin croquettes………. Give me a basket of these now and a cold beer and I would not be sharing! These are amazing, super, epic crunchy outer and super creamy inside…. I am in love!!
Crispy salt and Szechuan pepper squid with shoa hsing dipping sauce was nice, wasn't super crispy but the chilli and coriander and dipping sauce were winners.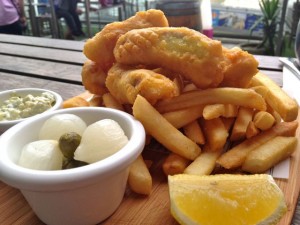 But the best bit of the day, apart from those little croquettes? Good old fish and chips done bloody well! A board loaded up with lovely fresh battered fish that crunch open to reveal beautiful steaming white fish. Excellent tartare, nice addition of pickled onions and guerkins and damn good chips. Heavenly lazy Sunday afternoon food.
The staff were great, the music was great (thank goodness the music blogger has been tortured lately) service was great and food was ….. croq-tastic!!!!
Will be back to spend some lazy summer afternoons here and try that burger too – it looked immense!