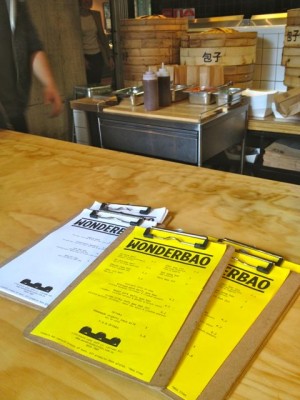 Wonder Bao to the rescue!! Ok not quite a super hero but if there was a Bao super hero it would be Wonderboa and their steaming baskets of joy!
Hubby loves a good laneway surprise, it reminds him of why Melbourne (and me) are fantastic! And he loves Steamed BBQ Pork Buns, so big trip for him!! Wonderbao is teeny, tiny, barely 5 bright yellow stools in the window but Bao is a perfect takeaway food so happy days!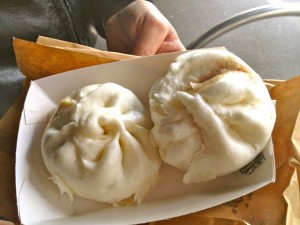 Only open during the week to the lucky students and workers passing by, this is a little pilgrimage for us on a rare Monday off! Why not eat your way around Melbourne for the day!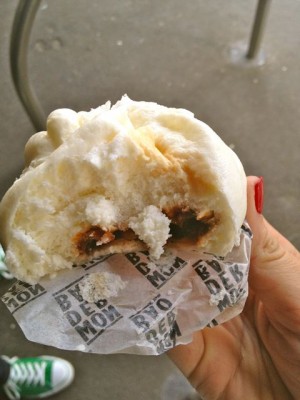 Steamed pillows of loveliness have breakie and lunch covered with 'Da Pork Bao' – egg, shitake & chinese cabbage, 'Da Chicken bao' – as per the pork, 'Cheung Chay Bao'- chinese sausage yes!! 'Char Sui Bao' – it's the bao baby and 'Choi Bao' with shitake, tofu & vegies.
After 10am there are Braised Pork Belly Bao, Roast Pork Belly Bao and Fried Silky Tofu Bao. Sorted!!
We share a Choi Bao and a Char Sui Bao.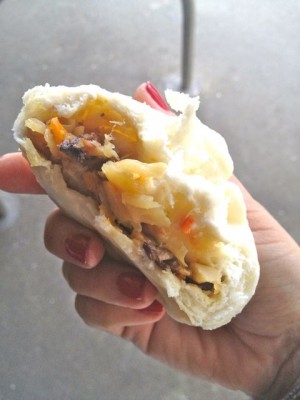 I have to admit the veggie option was my favourite! Big mushroom fan and the veggies packed a fair bit of flavour too so that the roll felt very filled. Delicious, fabulous fresh and wonderful!
The Char Sui was textbook lovely, sweet, porky, succulent and hubby was in a happy place!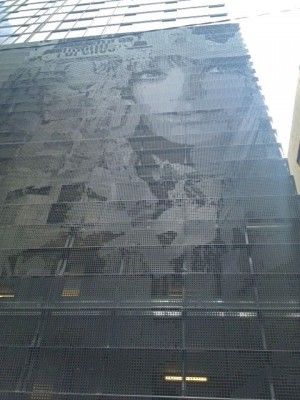 Look out for the brilliant wall art above and get your Bao on soon!