Hunky Dory is a great little relaxed spot to enjoy some fresh, quality seafood anytime of day, the menu is extensive with all kinds of fish, done anyway you like! Flake, Dory, Barramundi and Salmon served with prawns, calamari, dim sums and scallops. Fish can take you around the world with flavours such as 'The Spaniard – Topped with tomato, spanish onion. basil & a balsamic vinegarete' or the 'The Mexican – A blend of chilli, cummin & roasted red capsicum'.
There is also souvlaki, skewers and fish or beef burgers galore! It's a one stop shop with special packs to combine all your favourites whether you're with the family, a special friend or on your own and hungry for Hunky Dory!
Strangely the two times I have been to Hunky Dory I have had the burger! Offered as Plain, The Lot and with chips it's becoming a real favourite when in need of a big meaty treat! Leave out the egg and you receive a substantial, juicy, thick burger with cheese, salad, plenty of sauce and it arrives oozing on the plate with crunchy, hot chips and it represents everything a good homemade burger should be!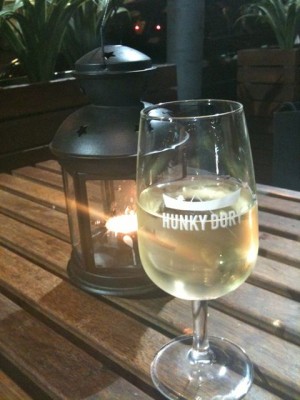 With a glass of house white or a beer, twinkling candles and great staff it's a great place to rock up, grab a spot and get some wholesome 'fast food', nearly guilt free and perfect for the Spring Season, we will be Hanging Hunky Dory Style again soon!