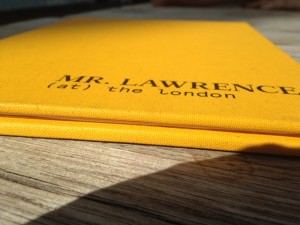 The Good Old London at Port Melbourne, under the badge of Mr Lawrence they are offering sunshine and Middle Eastern fare by the sea. Really like the vibe here, super relaxed (but you still get great service!). A great menu with plenty of mouth watering and healthy options, you can enjoy a graze through Ricotta fritters, Ocean Trout, Boureks, Tagine, sticky lamb shoulder or some Turkish pizzas.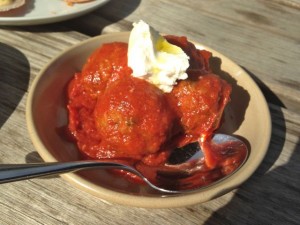 The Persian lamb meatballs with labne are sensational, big, hunky lamb balls, super juicy and slathered in a rich, deep tomato sauce and a light hit of labne.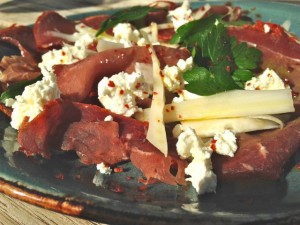 The 'Bastourma – Cured beef, Persian fetta & pickled fennel' is quite possibly the best 'healthy' option dish I could have picked. I have never had 'Bastourma' before, Google tells me it is 'a traditionally dry-cured and air-dried prime cut beef topside'. It was sooooo tasty, perfect with creamy fetta and LOVE the pickled fennel. It was a generous dish and bloody lovely!!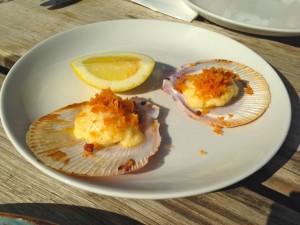 Beautiful Harvey Bay – half shell scallops with cauliflower puree and chorizo crumbs. Just one each, I could have eaten a dozen! They were so good, plump, perfectly cooked scallops, served proud in their shells with a lovely cauliflower puree and a little hit of bacon – YUM!
The staff were lovely, looked after us really well, for a pit stop on a long walk in the sunshine, this was perfection. See you soon Mr Lawrence!
——————————
Food 10/10
Service 10/10
Music n/a but loved the buzz of Port Melbourne seafront!
Toilets n/a Worryingly didn't go! Must have been dehydrated – note to self – drink more water!
——————————